Well, we are slowly unpacking and getting things put away. I still think it will be awhile before some rooms are completely ready. Still need to figure out decorating ideas, but if we can at least get boxes unpacked and everything organized, I'll be happy for a little while.
Finally got better pictures of the family room that is completely unpacked. I have also set-up the guest bath (in bedroom 4). We had our first overnight guests on Friday night before they headed to the airport. The guest bedroom is completely hodge-podge, but it is the last item on our list of things to replace. We also had our first "critter" visit. I'll post him last in case anyone is squeamish. He was not a welcome guest and I attempted to use hairspray on him since we didn't have bug spray. Thought it worked, but he showed up again the next day, but haven't seen him since, so hopefully he is finally gone for good.
And last but not least, the master closet is finally done!!! It even has clothes in it now.
Next on our project list is our mudroom bench and wall tree. Hubby is trying to decide what kind of wood to use. Haven't found anything we like yet that isn't waaayy to expensive. For some of the nice pieces of wood, we might as well buy a pre-made piece, but then it wouldn't look exactly like I want and wouldn't fit as snug in the space.
Our old house (townhouse) is now on the market. They have been going under contract pretty quickly around us. I know ours needs some work, but hopefully they will think it still shows nicely. We had thought about renting it or fixing it up and then selling, but with me being out of a job for so long, we had no money left to fix it up.
Now, on to the pictures (the part you soooo look forward to the most!!).
Family room - the paint is the same color on all three walls, even though the center looks lighter.
Sunrise off the morning room after a VERY light snow (less than a dusting). We sure haven't had much this year. Especially compared to the 2 FEET we had in one storm last year.
Guest Bathroom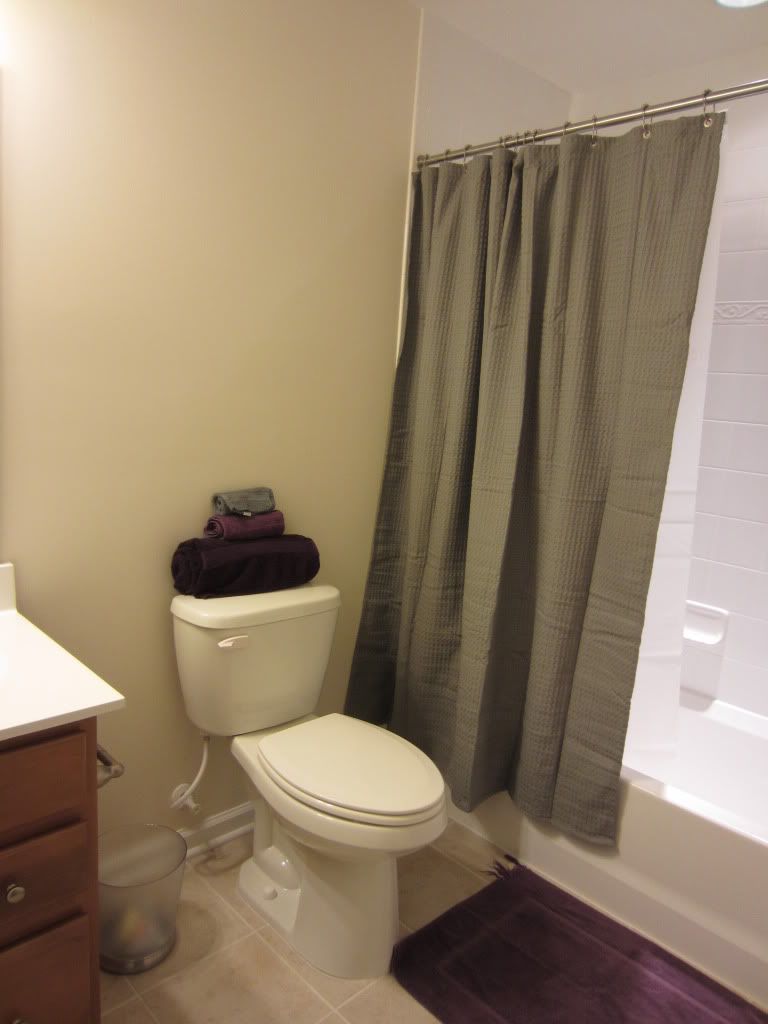 Master Bedroom Closet - Martha Stewart closet system from Home Depot
Shelves and shoe racks to share and double hang for me


Double hang, shelves, and drawers for me




plus 2 long hang sections
Hubby's double hang, shelves, and drawers. The dresser can now move back into the bedroom (mostly empty). Guess I need to buy more clothes to fill it up! ;)






And last - the "critter" - turn away now if you are squeamish
.
.
.
He would have fit inside a quarter. But when you live on street with a name like ours, then I guess we should have known that we would see a few of these.